Selamat Datang di UNS GreenCampus
Launched in 2010 by the University of Indonesia, the UI Green Metric is an annual international ranking of universities on the basis of green and sustainable development. Universitas Sebelas Maret (UNS) is currently sitting amongst the top 10 of the UI Green Metric table 2020. The university is continuously providing efforts and initiatives to ensure the integration of sustainable development goals into the university's vision and missions, by linking education and research with sustainable operational management, activities, green infrastructure, as well as research and innovations. The UNS Green Campus is a platform for all faculty members, the Rector, lecturers, staffs, and students to work collaboratively in providing various green-related programmes, activities, and infrastructure, all of which promote the achievement of Sustainable Development in our community.
Kegiatan yang akan Datang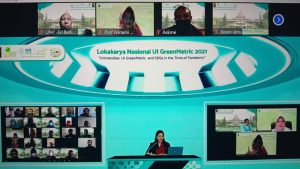 Publikasi
UI GreenMetric World University Ranking adalah pemeringkatan universitas tingkat dunia untuk mengimplementasi kegiatan kampus yang ramah lingkungan dan berkelanjutan.  Pemeringkatan ini telah dirintis dan diinisiasi oleh Universitas Indonesia (UI) pada tahun 2010. Keanggotaan UI GreenMetric mencapai hampir 100 universitas dari 35 negara, sedangkan di Indonesia  terdapat 22 universitas telah berpartisipasi dalam UI GreenMetric. Pada tahun
Baca Lebih Lanjut »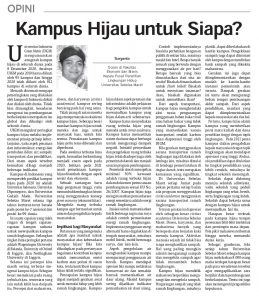 Publikasi
Menarik, mengapa pemeringkatan kampus hijau yang dilakukan kampus di Indonesia diikuti dan diakui dunia? Apa manfaat untuk masyarakat atas keberadaan kampus hijau? Bagaimana pelaksanaan kampus hijau? Sejauh mana peran mahasiswa? Selengkapnya di opini Dr. Suryanto dalam Solo Pos hari ini edisi Sabtu Wage, 19 Desember 2020.
Baca Lebih Lanjut »